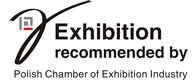 Main Patron of Television


10.12.2018
The GARDENIA Fair will be the meeting place for professionals to exchange knowledge, experience and innovative approach to the topic of gardening.
10.12.2018
On the last weekend of February 2019, Poznań will become the most desirable destination for professionals from the gardening industry and enthusiasts of backyard greenery. Two months before the GARDENIA Fair we can safely say that this will be the most inspiring event in the horticultural sector in 2019.
10.12.2018
Exhibitors who have confirmed their participation in the GARDENIA Fair and whose portfolios include innovative gardening solutions made based on the highest technologies and unique recipes that beat the competition in terms of quality should submit their products to the competition for the MTP Gold Medal.
More news
---

GARDENIA - The next edition: 2-4 march 2017, Poznań
.