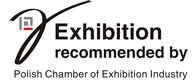 Main Patron of Television



11.01.2019
Check events at Gardenia Fair.
19.12.2018
May this Christmas bring back the best memories, spent together with the closest family, filled with warmth and the smell of gingerbread. May all your dreams come true. Wishing you all the best for 2019.
17.12.2018
The GARDENIA Fair will be the meeting place for professionals to exchange knowledge, experience and innovative approach to the topic of gardening. That's the driving force for the entire horticultural industry. Exhibitors, who in large numbers and well in advance booked exhibition space, have already started preparations for participation in the Fair. They will surprise visitors, their business partners, and also competition not only with original stand arrangement, but also interesting innovations.
More news
---

GARDENIA - International Garden and Landscape Architecture Fair
Next edition: 21-23 February 2019, Poznań, Poland