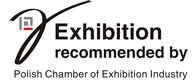 GARDENIA Fair already in February 2019 in Poznan
The 3rd Congress of Leaders of the Gardening Industry, workshops for landscape architects, the 13th edition of the "Urgan Garden Art", an inspiring meeting with people from the horticultural industry, international audience, a rich exhibition of gardening innovations for the 2019 season, new version of the "GARDENIA GRAND PRIX", specially dedicated demonstration spaces showing trends in gardening, hortitherapy conference − this is a brief description of the upcoming thirteenth edition of the International Fair of Horticulture and Landscape Architecture GARDENIA, which on 21-23 February 2019 will be held in Poznan.
For many lovers of greenery, the garden is a reflection of their personality. Nowadays  household space has to be not only useful, but also stylish. As a result, owners of gardens are increasingly willing to reach for modern lighting, innovative inventions, multifunctional furniture and tools that not only facilitate the work in the garden, but also increase its aesthetic appeal. Today the gardening market clearly goes in the direction of products that allow gardeners to achieve excellent results in gardening work, and even impress the neighbors. New products in terms of machinery, equipment and gardening products and plants, as well as trends in the effective use of even the smallest green spaces, will be seen in February at the GARDENIA Fair.
Gardenia is a great place for business
- The GARDENIA Fair is primarily long history, which for years we have co-created with the entire horticultural industry − stresses Jakub Patelka, Project Director. − Every year we strive to ensure that the event is attended by people with 'green' blood in their veins − he adds. This will also be the case in 2019. Most of the major producers, importers, wholesalers, nurserymen, owners of shops and garden centers in the horticultural industry will meet on 21-23 February in Poznan. GARDENIA Fair participants will also be representatives of trading networks from both Poland and Europe. The first two days are dedicated to professionals and have a strictly business nature. The third day will be open to the public. − GARDENIA will once again become the best place for business talks and establishing new contacts − explains Jakub Patelka. − As in previous years, they also fulfill the role of a platform of sharing knowledge and experience, drawing inspiration and gaining new practical skills − he adds.